You only need to tweak the options once, CamStudio will remember them and you won't have to worry about them every time.

Launch CamStudio, from the main menu, choose Options -> Video Options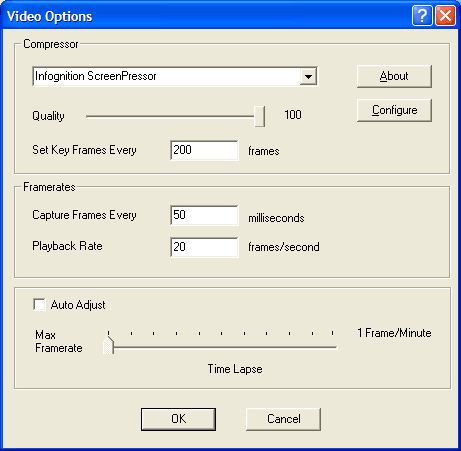 Compressor
Select "Infognition ScreenPressor".
Quality
This setting is for lossy codecs and doesn't affect lossless codecs like ScreenPressor. Anyway it's good to keep it at 100.
Set Key Frames Every
Recommended setting is 1 keyframe every 200 frames.
Clear "Auto Adjust" checkbox to enable manual framerate selection.
Capture Frames Every
This field determines the input frame rate. It dictates how long the CamStudio will "sleep" after capturing each frame. One millisecond is 1/1000 of a second.
If you set this to a large value (for example 1 hour, or 3,600,000 milliseconds), you practically create a time-lapse movie. CamStudio will actually "sit and watch" for activities on the screen that takes a long time to occur and take a snapshot (say, only once every hour).
Recommended rate is 10 frames per second, it's smooth enough to see what happens, leads to small file size and close to the speed CamStudio is capable of capturing screen.
For 10 fps capture, set this value to 100.
Playback Rate 
This field determines the output frame rate per second. A higher value means a smoother playback.
Typical values of 10 – 20 frames per seconds are adequate for most purposes.
Configure
Click this button to configure the parameters of selected compressor.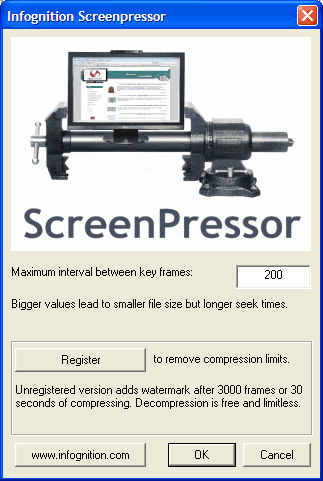 Maximum interval between key frames setting should be set at 200.